EKSAtelecom is mainly focused on a clear communication system, which uses the VoicePure ENC technology to filter noisy surroundings but keep a clear human voice. Our mission is to build a flexible and efficient communication system with clear audio.
Please don't hesitate to contact us by filling out the form below, or directly get to our sales team at
005@eksa.net
.
Buy 1 Get 1 Free (MOQ:200)
Through e-commerce and offline channels, we aim to maximize our domestic presence and better serve the global market expannding across 17 countries and regions.
We have worked with
185
parteners,
50%
of which are in
Europe and America
,
40%
in
Asia Pacific
and
10%
in the
US
.
We have also worked with exclusive distributors around the world, mainly in the USA, UK, Netherlands, Czech Republic, Switzerland, Russia, Australia, India, Japan, Korea, Malaysia, Philippines, Iran, Argentina, Brazil, Chile, South Africa, etc.
We actively participate in various exhibitions to showcase our products and technologies, expand our distribution channels, increase sales and strengthen our brand.
Google, Advertising Alliance, Facebook, Instagram, TikTok
There are more than 10 cooperative game forums that post information about our products and services in words, images, videos, and more.
Official Social Media Operation
Official Facebook, TikTok, Twitter, Instagram, and YouTube accounts have a total of 8.5k followers, including 4.6k followers on Facebook.
We have worked with all mainstream technology media and gaming industry media in the United States to provide branded product evaluation reports and new product press releases. Resources are stored in 185 companies, with the United States accounting for 80%, including Germany, the United Kingdom, India, Japan, and other countries.
We have opened two alliance channels, ShareASale and GoAffPro, and have accumulated more than 3,000 partners.
We have accumulated 30,000 members, and send EDM emails every week to interact with our members.
Includes, but is not limited to, holiday brand activites, membership activites, new product promotion warm-up activities, product presales, user surveys, UGC content production, and more. The official EKSA website plans large-scale branding activities every month, while social media plans small-scale activities to interact with users on a regular basis.
We have worked with a total of 650 KOL influencers around the world, of which the United States accounts for 53.7%, and 200 influencers with more than 100,000 followers.
We have cooperated with 157 global resources, including 26 websites, 124 groups, and 7 deals influencers.
Our live broadcasting service is available on Amazon, AliExpress in Russia, and Tmall Taobao in China.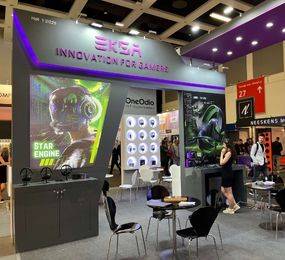 Top Tech Media Recommendations